'Life is a mixture of suffering and boredom' wrote Nietzsche; I presume he was assembling a piece of Ikea furniture at the time. Over the years I had managed to avoid this thankless task. I loathe those adverts the Ikea company puts out, urging the population of this Sceptred isle to 'be less British'. Being Swedish evidently involves exhibitionist nudity in saunas, being cowardly and neutral in major conflicts and selling iron ore to the Nazis. I've long been suspicious of the Scandinavians since, during a documentary about pagan culture, I noticed a piece of Swedish cave art that depicted a man on skis having sex with an elk. This view became further entrenched when my cousin Tammy began dating one, a delightful chap named Ulrich. During one awkward moment at the dinner table he uttered a particularly memorable anecdote. 'Der vere zese three students who vent camping in der vilderness and they camped down for der night….. then a polar bear came and ate them'. He then broke into a big booming laugh, which was greeted by a bit of a stunned silence from the rest of us. I guess you had to be there. Taking all this into consideration, I think I shall stick to being British and intensely Xenophobic. None of this changes that fact that the stuff is cheap and more convenient to install than anything else on the market.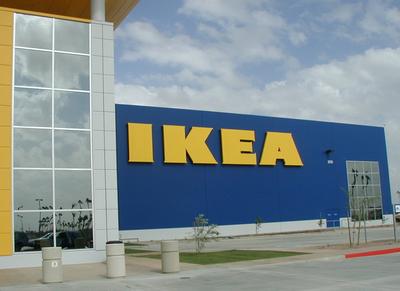 Convenient but not easy. Last nights shenanigans quickly resembled the jigsaw puzzle from hell. To save time and money the Ikea company has decided to dispense with producing proper written instructions and has instead provided a series of obscure drawings showing bland robotic figures going through the motions of assembly. They remind me very much of those imaginative 'Home Safety' manuals from the Cold War, which showed you how to construct a nuclear shelter out of a couple of bin-bags, a door and a bucket for 'human waste'. Working out just what these figures are doing is incredibly difficult for many reasons. The screws are numbered to allow them to be easily identified, the trouble is the numbers are eight digits long and about as easy to memorise as the bible translated into binary. This resulted in serious delays while I attempted to recall which hole screw 01998485 goes into. Having assembled the base of the sofa, I was directed by the instructions to flip it over and, to my horror and disgust, the entire thing then collapsed faster than a democracy in West Africa. This happened a further three times, before finally I realised that screw 12949598 was in the wrong hole. After a further hour of heaving, straining and issuing of expletives I finally managed to complete the damn thing. It was tempting to deconstruct the thing with a sledgehammer for putting me through blood, toil, tears and sweat. Luckily I restrained myself. I need somewhere to plant my oversized behind when I'm watching Big Brother.
It has been suggested in some circles that if you work hard to build something then you feel a sense of fondness for it. This is simply untrue. Right now I hold about the same amount of affection for this sofa that Allied P.O.Ws must have felt for the Burma Railway.
A few years ago I was disgusted to read that more people voted in the Big-Brother election than in the General Election. This year I failed to vote for any of the parties in the election because I was too lazy to walk to the polling station. Last night I voted to evict Maxwell from the Big Brother house. I hate becoming part of an embarrassing statistic, but I despise that egotistical cockney bastard and I'm sick of him polluting my television screen with his repulsive presence. I only wish they would hold a similar referendum on 'Diagnosis Murder' so I might expunge that from the airwaves as well.
The household is something of a minefield of humiliation. I have taken to tripping over the futon with appalling regularity and end up hopping around the house like a landmine victim. On another occasion, I was enjoying a refreshing drink of Fanta from what I thought was a trendy glass. Katie helpfully pointed out to me that I was drinking from the top to the carpet cleaner. She disapproves of some of my habits, most of which I not only believe to be normal, but fundamental elements of an Englishman's daily routine. The foremost of these is reading on the toilet. For me, going to the toilet involves far more than answering natures call; it is an intellectual experience. Most of my books at some time or another, move from the bookcase into a haphazard pile next to the W.C. I see nothing undignified in this activity, and yet every tome I read on the toilet is referred to my better half as a 'poopy book' and regarded as if it is somehow tainted. You have a choice when wasting precious seconds of your life straining to relieve yourself. Either stare blankly ahead of you, or dip into a good P.G Wodlehouse; I prefer the latter and I am better educated because of it.
I viewed Live 8 with a mixture of youthful idealism and outright cynicism. For the odd moment, I felt myself drawn into the energy of the event. 'Surely', thought I, 'if we all band together in one glorious purpose we can achieve a revolution in global trade and save the dark continent from barbarism and poverty'. Then my idealism evaporated. 'Nah, never gonna happen'. This sea change in my attitude was caused by the idiotic statements of the artists, who got a bit overexcited by the occasion and began seeing themselves as world statesmen instead of moronic imbeciles who can bang out a good tune occasionally. The word 'historic' was used with infuriating regularity, and while I appreciated having something to listen to while I painted the kitchen, the concert certainly wasn't 'the greatest achievement of humankind'. One comment annoyed me immensely. Some chap –I think he must have been a drummer- stared into the camera with intellectual conviction and said 'you know what, if it was the other way round and the west was in need, then Africa would come to our aid'. I tried hard to imagine Mugabe, Gaddafi and the rest of those tin-pot African dictators holding a benefit concert on our behalf, but it seemed to be stretching credibility somewhat.
I've read subsequently that Idi Amin actually set up a 'Save Britain' fund when our economy was in difficulty during the oil crisis of the early seventies. By this time Amin was feeling a bit miffed with Blighty and was calling himself 'The conqueror of the British Empire in Africa and Uganda in particular' and, bizarrely, 'King of Scotland'. In 1973, seeing the potential for a wind-up, he sent a telegram to Britain saying
'In the past months the people of Uganda have been following with sorrow the alarming economic crisis befalling on Britain. The sad fact is that it is the ordinary British citizen who is suffering most. I am today appealing to all the people of Uganda who have all along been traditional friends of the British people to come forward and help their former colonial masters.'
Amin was not deterred by the lack of response and went as far as to organise food aid to be sent to Britain. In a further telegram to Whitehall, he said
'Today, 21 January 1974, the people of Kigezi District donated one lorry load of vegetables and wheat. I am now requesting you to send an aircraft to collect this donation urgently before it goes bad. I hope you will react quickly so as not to discourage Ugandans from donating more.'
Perhaps I was being too hasty in dismissing the philanthropy of African