Commentators reflecting on the massacres committed by the communist regimes of the 20th century were fond of quoting the 16th century proverb 'the road to hell is paved with good intentions'. What is true of Marxist genocide is also true of plastic pot plants. Whoever masterminded the decoration of the lobby of the contemptible 1960s office building I work in was in all probability motivated by feelings of human solidarity and desired to create something that would infuse the buildings inhabitants with something akin to a state of spiritual nirvana. This, they reasoned, could best be achieved by creating a display of fauna in the entrance hall that would bring Mother Nature's wonders to an otherwise soulless patch of concrete. Something was lost in the execution. Instead, following a series of compromises, the space was populated with a series of grotesque plastic trees, which resemble cast-off props from 'Day of the Triffids'. Over the years the dust has accumulated so that this ghastly spectacle has even lost its kitsch appeal. Far from attracting onlookers towards its beauty and away from the boxy architecture of the building its blackened forms present themselves as a forest of death. The ghastly display fulfils the same role as the decaying victims of medieval hangings, chilling onlookers with its spectacle of decay and forcing them to reflect on the transience of existence.
Recent events have forced me to reflect on the plausibility of robot sex slaves. If, like me you follow the scientific press with a sort of horrified fascination, you can hardly have failed to notice the surge in wildly speculative literature regarding the imminent symbiosis between man and machine. This trend is best embodied by the figure of David Levy, author of such titles as 'Love + Sex with Robots' who claims that by 2050, machines will be able to serve as human like lovers and 'not just mechanical sex slaves'!?!. He predicts that within the next four years advanced robots will be sold as sex toys and will possess sensors and electronic speech abilities to make them seem real, when a human touches their 'sensitive zones'. All this gives you some idea of what St Augustine was talking about when he spoke of 'the sinful soul that made the flesh corruptible' from which arises 'incitements to vice and, indeed, vicious desires'. Leaving ethics to one side for the moment, I find myself worrying that the introduction of this additional household appliance might result in a number of nightmare scenarios, such as returning home to find your mechanical husband embedded in your fridge in an act of ill-conceived copulation. It also requires a tremendous leap of faith just to trust a computer to take care of my sales proposals let alone let it in close proximity to my genitalia; especially if it is running Vista. Another commentator, Kevin Warwick of the university of Reading has gone in a slightly different direction, claiming in his book 'The March of Machines' that by 2050, if current progress continues, the robots will have taken us over. Presumably in this scenario, the tables will have turned and the remains of humanity will be subjugated and bred as sex slaves to the robots, thus leaving David Levy with egg on his face. These are the consequences of hubris.
Happily the current state of play in artificial intelligence gives one no reason to worry about such alarming predictions. In the preface of Mark Tilden's book 'Junkbots, Bugbots & Bots on Wheels' he recalls the story of his attempt to make a robot butler for his household. Having designed such a complicated and expensive machine he was bemused to discover on returning home that it had been outwitted by his pet cat which had walled it in with play furniture and left it spinning hopelessly in circles. If this anecdote is any indication, the robot menace of the future will more resemble the Daleks than Arnold Schwarzenegger in 'The Terminator', with our mechanical counterparts capable of unspeakable evil but unable to climb the stairs without falling over. It also proves the maxim that if you really want to create artificial intelligence you would be better off having kids than fiddling with wiring and AND gates.
And so big brother has returned to our screens, a show I affectionately refer to as 'chewing gum for the eyes'. Many people elucidate a sort of dripping elitist contempt when they hear that this programme has returned for its latest season. This I think is misconceived. Television never has been and never will be intellectually stimulating and long may it be so. Having said this, I am slightly concerned about the values it promotes, or perhaps brings to the surface. For example, it has become clear to me that amongst Big Brother contestants, being rude to someone's face when you don't like them or 'telling it like it is' is considered a virtuous act. Whilst talking behind someone's back is considered shameful, actively confronting the object of your displease and lecturing them on faults in their personality is the height of good manners. Things have obviously moved on since Lady Troubridge's rules of etiquette.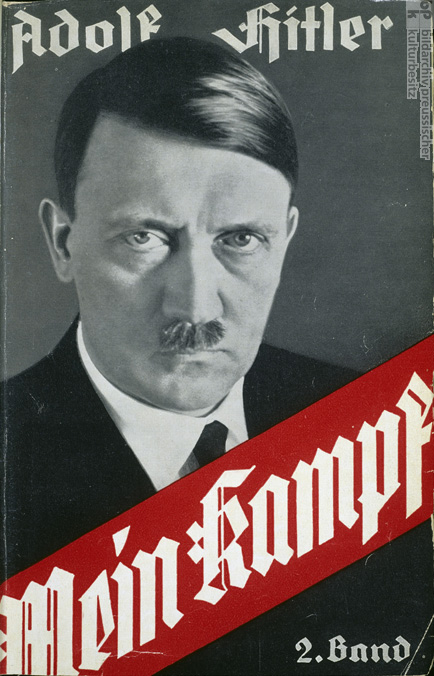 Once you accept this as a guiding moral principle, Adolf Hitler begins to look positively virtuous. His 1926 work Mein Kampf - or to give its original title 'Four and a half years of struggle against lies stupidity and cowardice' - is a perfect illustration of how one should 'tell it like it is', detailing his intentions to overthrow the shackles of the Treaty of Versailles, wage war against France and destroy the 'Judeo Bolsehvik' regime in the east to create the desired living space for the Aryan master race. No room for ambiguity there. This book by the way was not the publishing flop of folklaw. It sold over 10 million copies by 1945 was translated into many languages including Braille; it also caused alarm in 2005 by topping the bestseller list in Turkey following a flurry of sales. Despite these explicit intentions Stalin remained convinced that the Nazis would remain pre-occupied with the west and even admired Hitler for his brutality, remarking 'What a great fellow! How well he pulled this off!', when news came of the night of the long knives. Hitler for his part described Stalin as 'one of the greatest human beings since , if only through the harshest compulsion he has succeeded in welding a state out of this Slavic rabbit family (Kaninchenfamilie)'. Its strange to contemplate that in another reality these guys could have been drinking buddies.